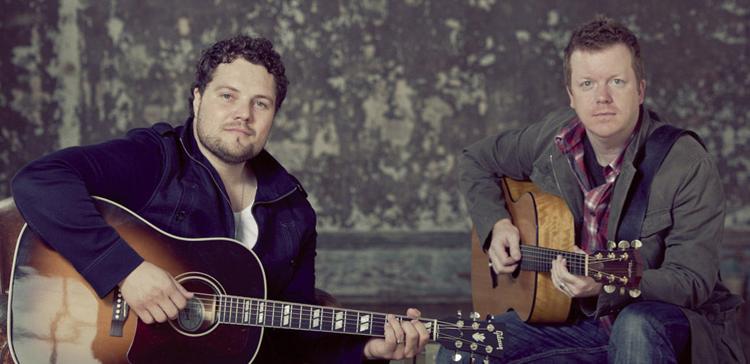 Shane Williams and Warren Bazemore of longstanding duo Finnegan Bell are masters of the two-part harmony.
"It's more like two singers singing together instead of one in the background," says Williams. "That's always appealed to us."
And the duo has had a long time to develop the perfect vocal blend, since Williams and Bazemore have been playing music together since 1994. They were in Appalachian folk rock group Silers Bald right out of college, which made it all the way to a record deal. During the heyday, they were touring more than 200 days a year. However, both artists wanted times to write again and a chance to lead a more sustainable lifestyle when on the road. Therefore, the duo was officially crafted.
It comes naturally.
"One of the most amazing parts about playing as a duo is that Warren and I have done it together for so long now that it's almost like breathing," says Williams. "There's no set list, and we don't even have to talk about the songs … There's this really cool openness that can happen, and you can only get that with someone you've connected with on that level for so long."
Beyond performing live about 150 days out of the year, Finnegan Bell has started hosting "STACK" house shows. The performances take place in people's homes and unique locations throughout the Lowcountry, such as an abandoned Cainhoy church. Williams and Bazemore rearrange the space to create an intimate listening room environment. Then, they begin with a few songs as Finnegan Bell before introducing other artists.
"Charleston has such a beautiful scene," says Williams. "We love being engaged in what's happening. And you don't see a big pissing contest here."
Finnegan Bell will be releasing a single on vinyl and digitally in September, leading up to a new album set to be recorded in spring of next year.
Click HERE to read the full article.